When I was cloth diapering the kiddos, my favorite diapering system involved prefolds and wrap covers. Prefolds are absorbent, quick drying, store neatly, and are affordable. I most preferred laying folded prefolds in their wraps as it was simple and quick, both for me, and babysitters / day care providers. However, the dimensions of most prefolds weren't very cooperative. If I folded them vertically, there was too much length, so there was a wad that either got folded over in the front or back. If I folded them horizontally, there was a big wad right in the center, which was super bulky and made the kids somewhat bowlegged.
I pondered how to maintain the absorbent and quick-drying properties of my prefolds while distributing the bulk better when laying in a wrap.
I finally came up with the idea of trimming my prefolds.
I cut off one end, leaving about 14″ for the main body of the diaper, but reserving the cut off portion to sew in as a doubler. I don't have a serger, so I straight stitched the raw-edge about 1/4″ in from the edge, then went back and zig-zagged in the 1/4″ space. I sewed the cut-off "doublers" in on one side so that the prefolds' absorbency and quick-drying abilities were preserved.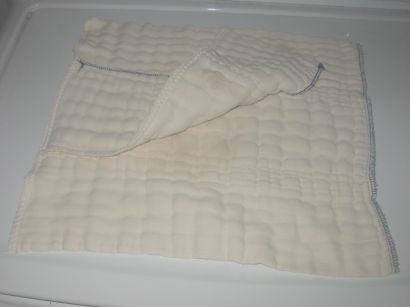 After this edit, the prefolds fit perfect in any standard wrap (like Proraps and Bummis):
This system is super-trim and super-easy. Here's a pic of my 21 month old toddler in a trimmed prefold and Bummis wrap: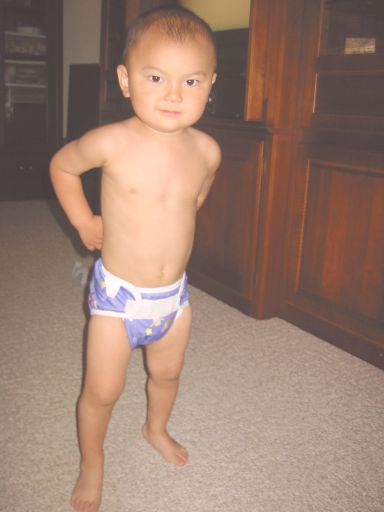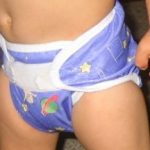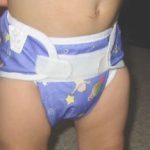 With this system, I found that clothes fit better and my children could walk normally 🙂
I also found that storage was more compact and easy: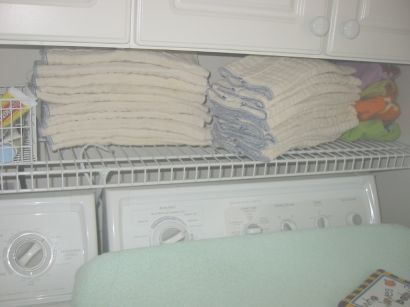 As I cloth diapered the kids, I experimented with just about every system under the sun, but ultimately, this is the system we landed on and the one that saw them through to potty training. It was the trimmest cloth diaper system as well as the easiest and most affordable 🙂 So if you have similar requirements, consider giving your prefolds a trim.