This article is intended to help you improve the search engine optimization (SEO) for your indieCart listings. SEO sounds like a scary and mysterious term, but the objective is really simple. You want google and other search engines to be able to understand what's in your listing and help guide searchers to it appropriately.
The biggest mistake
The biggest mistake I see sellers making with their indieCart listings is assuming all shoppers are coming in through their store front.
What do I mean by that?
If you assume your shoppers know your store well, and understand what you sell, then you don't feel the need to be specific about the titles in your listings. For example, if you sell cloth diapers, and all of your loyal shoppers know that this is all you sell, then you may feel that all you need to put in your title is "Car print" or "Dinosaur print." You may also leave the description quite sparse.
After all, everyone know you sell diapers, so wouldn't it be redundant to include more in the title and description?
The thing is, if you have good, specific keywords in your title, you open up the opportunity for someone to find your listing from a search engine like Google or Bing. If someone out there is looking for a cloth diaper with a dinosaur print, they will never find your listing unless you put more information in the title and the listing description.
Easy fixes
It is really easy to fix this issue. It just takes a little up-front thought and some tweaking of your existing listings:
Step 1: Figure out your keywords
This is as simple as ensuring that you are specific in your title and description about the item in the listing. So your keywords might be, "handmade cloth diaper," or "amber teething necklace," or "reusable paper towel."
Try to think about it from the point of view of the shopper. If someone wanted to buy the items in your shop, and were starting from the Google search bar, what words would they search on? Those should be the key words you pick. You might also pick a few variations and use them in different listings.
Step 2: Ensure your keywords are placed in your listing correctly
There are three key places to include your keywords:
The "product name" field
The beginning of the "description" field
The "tags" field
In our earlier example, for the product name, rather than "Dinosaur print," the seller might try, "Dinosaur print organic cotton cloth diaper."
The beginning of the description should also include the keywords and be a clear description of what is in the listing. For example, "This listing is for a handmade organic cloth diaper in an adorable Dinosaur print."
Finally, the seller should include the keywords and other secondary keywords within the "tags" field. Something like, "organic cotton cloth diaper, dinosaur print fabric, snap closure diaper, cloth diaper, reusable diaper" would be a good start.
Step 3: Check on indieCart search and google
Checking on indieCart
Within an hour of making your changes, they should be reflected within the indieCart search engine. Do a quick search (again, thinking like a shopper) and see if your listings show up in the way you expect.
Here's an example from Inspired by Finn (IBF): a shopper could easily come in to indieCart and be looking for an amber bracelet. However, at this moment (I'm sure IBF will fix this soon 😉 ), if a shopper types, "amber bracelet" into the indieCart search page, only one listing comes up:
However, this is not the only amber bracelet that IBF offers. Far from it. If I enter just "bracelet" on the search page, many more listings come up: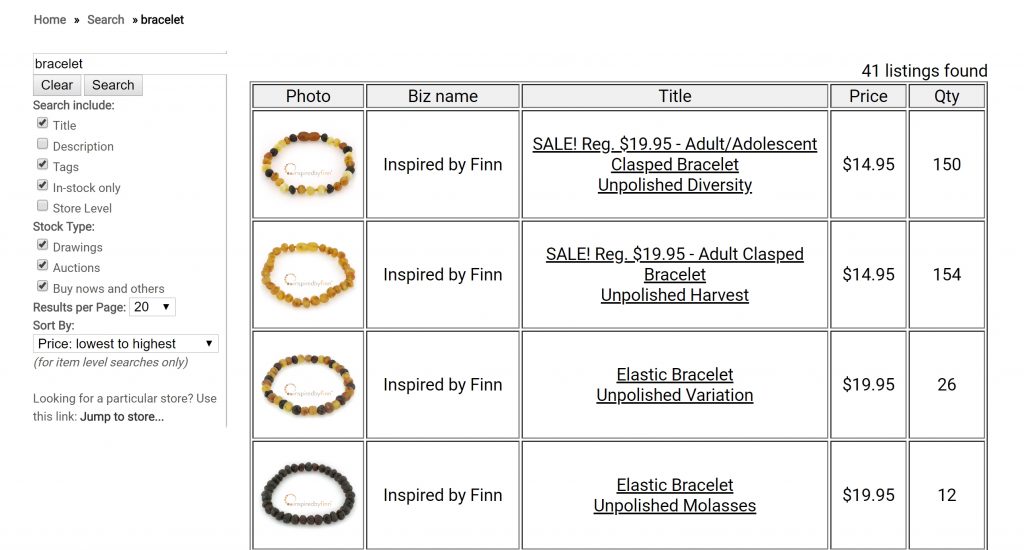 However, the word "amber" is missing from the titles of all of these listings and so they would be missed.
Checking on Google
Google is harder to control and it can take longer for changes to show up. Give it at least a few weeks before doing a search and checking progress. In addition, if a lot of listings are similar, Google tends to pick one representative link rather than linking to each one separately. It is their way of keeping the search results from being too overwhelming. In this case, if "inspired by finn bracelet" is entered into Google, only two of IBF's indieCart store links come up: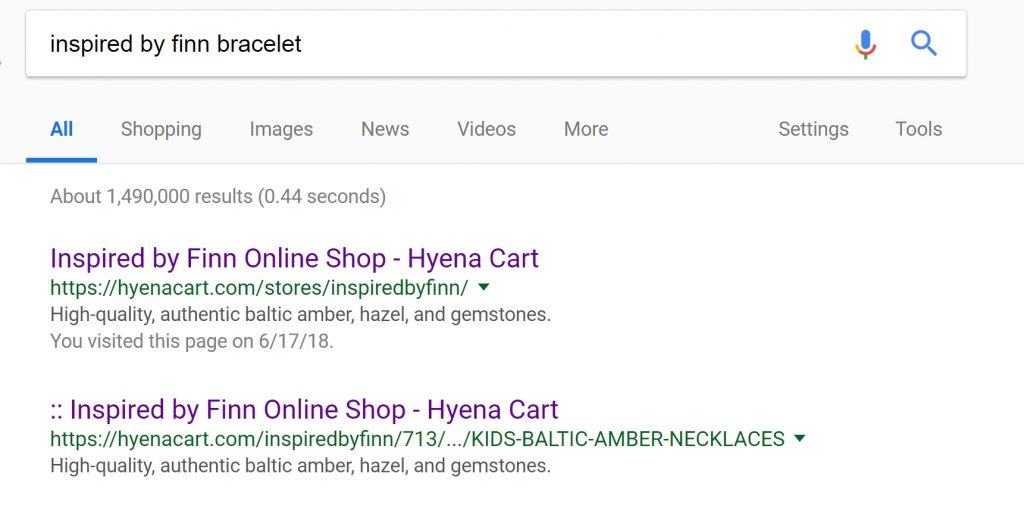 The first one links to the overall IBF store, which is a good start. But a shopper may lose interest if she is searching for a bracelet and the resulting link takes her to the store, but not a specific bracelet listing.
The second link is actually an outdated subcategory link that doesn't have content: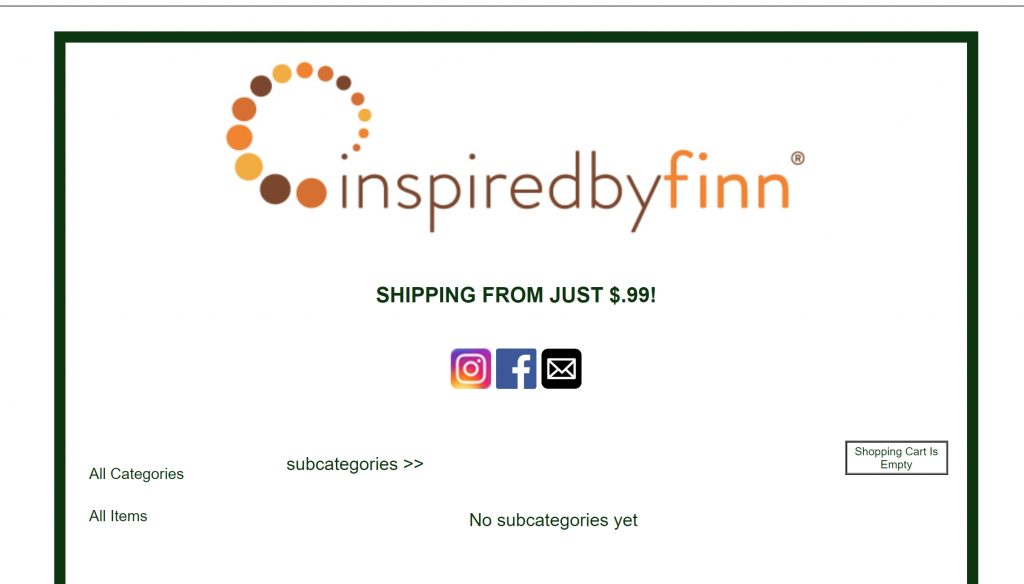 So why did Google choose that link to share in its results rather than one of IBF's many bracelet listings?
Let's navigate to that page and investigate further. Once on the page, you can right click and choose "View page source." Here's what we see:

On pages that aren't actual product listings (in this case, we're looking at a subcategory page), the keywords and description are taken from what the shop owner has entered on his / her Store Settings >> Profile page. In this case, IBF has filled in those keywords with very relevant words for its offerings. Google sees those keywords and a relevant description for "inspired by finn bracelet", and shows that result to the searcher.
And why doesn't the listing page for one of the bracelets show up? Let's do the same "View page source" trick with this listing page: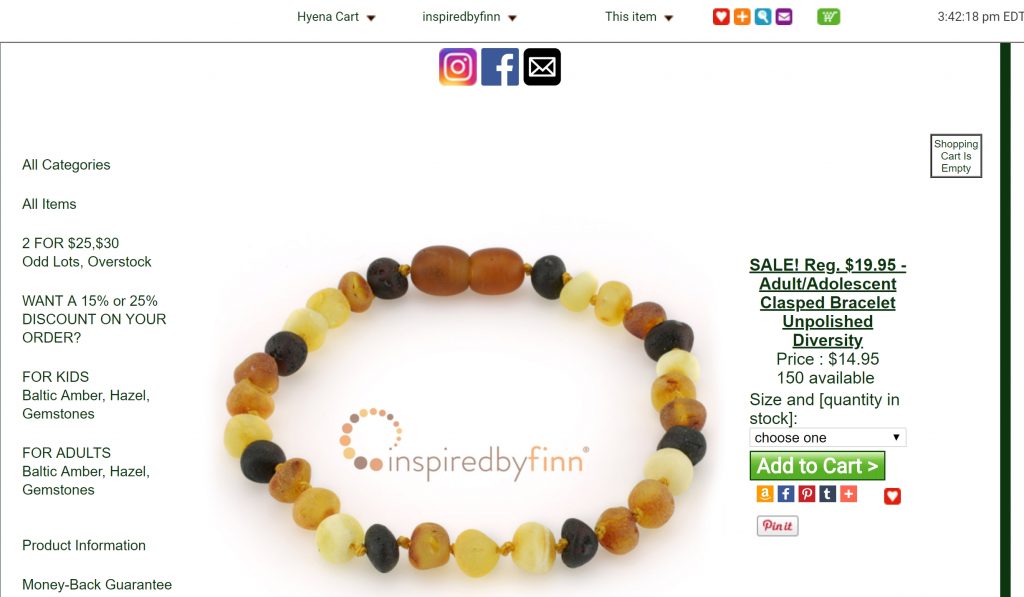 Google does find the words "bracelet" and "inspired by finn" in the title, which is a good start. But the description and keywords don't say anything about "bracelet" so Google must have determined that this isn't a good match.
Note that on listings pages, the meta description information comes from the first 150 characters of your "description" field. That's why it's important to ensure that your keywords show up in the beginning of your description.
Additionally, on listings pages, the meta keywords information comes from the information entered into the listing's "tags" field.
Give it a try!
So take a look back through your listings, and try to picture yourself as a shopper, searching the internet. She's looking for something, and you are offering it! Think about what words and phrases she'll search on, and make sure your listings are the ones that will pop up in her results. Doing this well will open up another way for shoppers to find your items!