What is a knit soaker?
One of my diaper obsessions centered around knitting soakers. While I was mainly a prefolds and wraps diaper-er, sometimes a breathable cover is just irresistible, especially in warm weather. There's something very appealing about watching your little munchkin walking or crawling around in just a t-shirt and diaper with a cute, breathable cover. They look adorable, and their tushie stays nice and cool.
I'm not sure how soakers got their name. First of all, they shouldn't be confused with the soakers that are laid or sewn into diapers. Those provide the absorbency to soak up urine and are made of cotton or hemp. The knit soakers I'm talking about are used as diaper covers. They are usually made of wool, which can soak up some liquid without wicking it onto outer layers of clothing, so that's probably where the name comes from.
However, ideally, if your wool soaker is well lanolized, the wool fibers will simply repel the wetness and keep it in the diaper without absorbing too much of it. The biggest advantage of using wool is that the urine that does get soaked into the wool reacts with it somehow and doesn't smell after the cover has been aired out. That means that you can keep re-using a wool cover without washing it until it gets poopy, or it starts to smell even when dry (people typically go for 2-3 weeks between washings.)
Knitting patterns for soakers
There are several soaker knitting patterns available for download. Here's a selection:
Yarn for soakers
Wool yarns for soakers
One of my favorite yarns for knit soakers is Lion Brand's Fisherman's wool, which you can get at Joann Fabrics (not all Joanns though — mostly just at the larger Joann etc. stores). It comes in an eight-ounce skein which is enough for about three soakers.
Here are a few pics of my little one in a soaker knit from Fisherman's wool: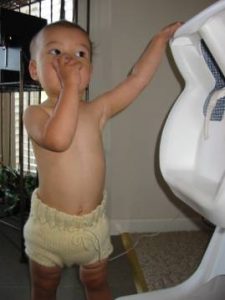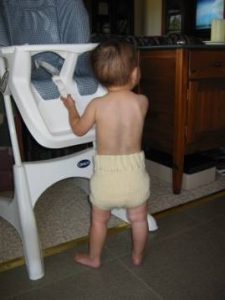 Other great yarns for soakers are Bluefaced Leicester or Merino wool (just be sure not to get superwash wool, which doesn't have any lanolin left in the fibers.)
Dyeing yarn
The other fun thing you can do when knitting soakers, is dye the wool yarn with kool-aid or acid dyes (more on that in a future post.) I eventually made a business of this for a few years. Here's an example of what I was able to create with some powdered dyes and a microwave oven: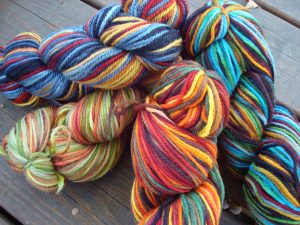 and here's a pic of my son in a soaker knit with Kool-aid dyed yarn: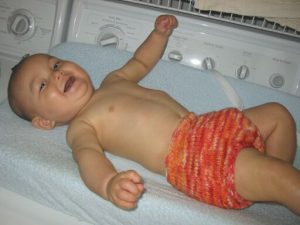 If you don't have the interest in dyeing yarn, you can still use beautifully hand-dyed yarns from independent sellers like Mosaic Moon or The Knitting Addict.
Acrylic yarn for soakers
Finally, if you or your little one have a wool sensitivity, you can also give acrylic yarn a try. Acrylic works as a soaker because it is essentially plastic and doesn't absorb water. So as long as the knit is tight enough to prevent contact of the diaper and the outer clothing, it performs reasonably well as a water-resistant barrier.
The advantages of acrylic are that it's machine washable and dryable, doesn't need lanolizing, is super-soft, and since the yarn is more slippery, makes for a stretchier fabric. However, it doesn't have the anti-bacterial properties of wool, so it needs to be washed more often, and I think it gets pillier in the wash over time, but probably hand washing would alleviate some of that.
Here's my daughter in an acrylic soaker. It passed the four-hour diaper test with no wicking or leaks: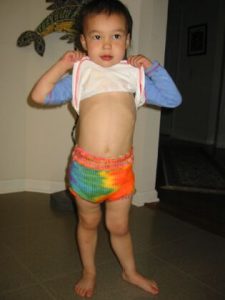 Sewing "Butt Sweaters"
If you're not a knitter, you can still make soakers using old wool sweaters. Pick up a 100% wool sweater at Goodwill, then wash it in hot water and dry it on high in the dryer. This will felt the wool up and make it water-resistant. Then follow the instructions at the bottom of this page, or the bottom of this one.
Here's my daughter crawling around in her homemade butt sweater: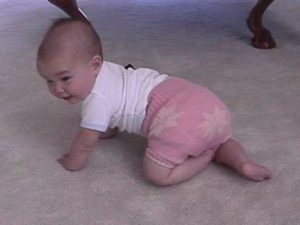 Soakers and longies (their pants-shaped counterparts) were all the rage in the early 2000's. They seem to have gone out of fashion in the meantime, but they're worth a try for their softness, breathability, and downright cuteness. Let me know how it goes if you decide to give soakers a whirl 🙂