| | |
| --- | --- |
| | |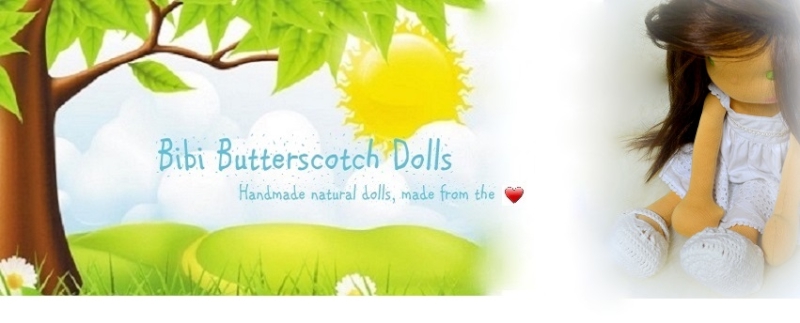 Information and conditions
Thank you very much for the interest in my dolls.

You can find Bibi Butterscotch dolls at the following locations:

http://www.facebook.com/Bibibutterscotchdolls
http://bibibutterscotchdolls.blogspot.nl
http://hyenacart.com/stores/Bibibutterscotchdolls
https://www.etsy.com/shop/Bibibutterscotch?ref=si_shop
http://www.flickr.com/photos/94552033@N08/
http://www.pinterest.com/bibidolls/
http://www.instagram.com/bibibutterscotchdolls
http://www.twitter.com/estherdee1


All my dolls are handmade by me, made out of natural materials according to the Antroposophic learning styles.

Every doll I make is one of a kind with its own personality. No two handmade dolls are ever alike. When you order a custom doll I can try to make it like one you'd pointed out from photo's but please remember they will always differ.

Handmade dolls are not intended for children under the age of three or rough play.

I accept Paypal payments and credit card payments. Payments need to be made within 24 hrs after the sale. Non payments will result in account blocking and future buying.

I will always ship with tracking code and insurance therefore I have to fill in the real value of the doll on the shipping form.

Tax and/or custom duty imposed by the buyer's country is the responsibility of the buyer of the doll.

Although I make my dolls with the utmost care, it can happen that a seam cracks or something else happens to the doll. Please contact me if that happens so we can find a satifying solution because my main goal with doll making is bringing joy.

If for some reason the doll isn't love for you, you may return it to me. I will refund 2/3 of the selling price to cover expenses. Besides materials, time and internet costs, expenses are also the high (non deductable) taxes and customs duties in the Netherlands where I am located which I am charged for if you send the doll back.

Please contact me if you have any question about me or my dolls.

There is 1 shopper online
Bibi Butterscotch Dolls has been hosted on indieCart since Sep 2014